ABOUT CIGNA
Cigna is a Fortune 12 global healthcare and insurance company with 73,000+ employees. Cigna's mission is to improve the health, well-being, and peace of mind of those we serve by making health care simple, affordable, and predictable.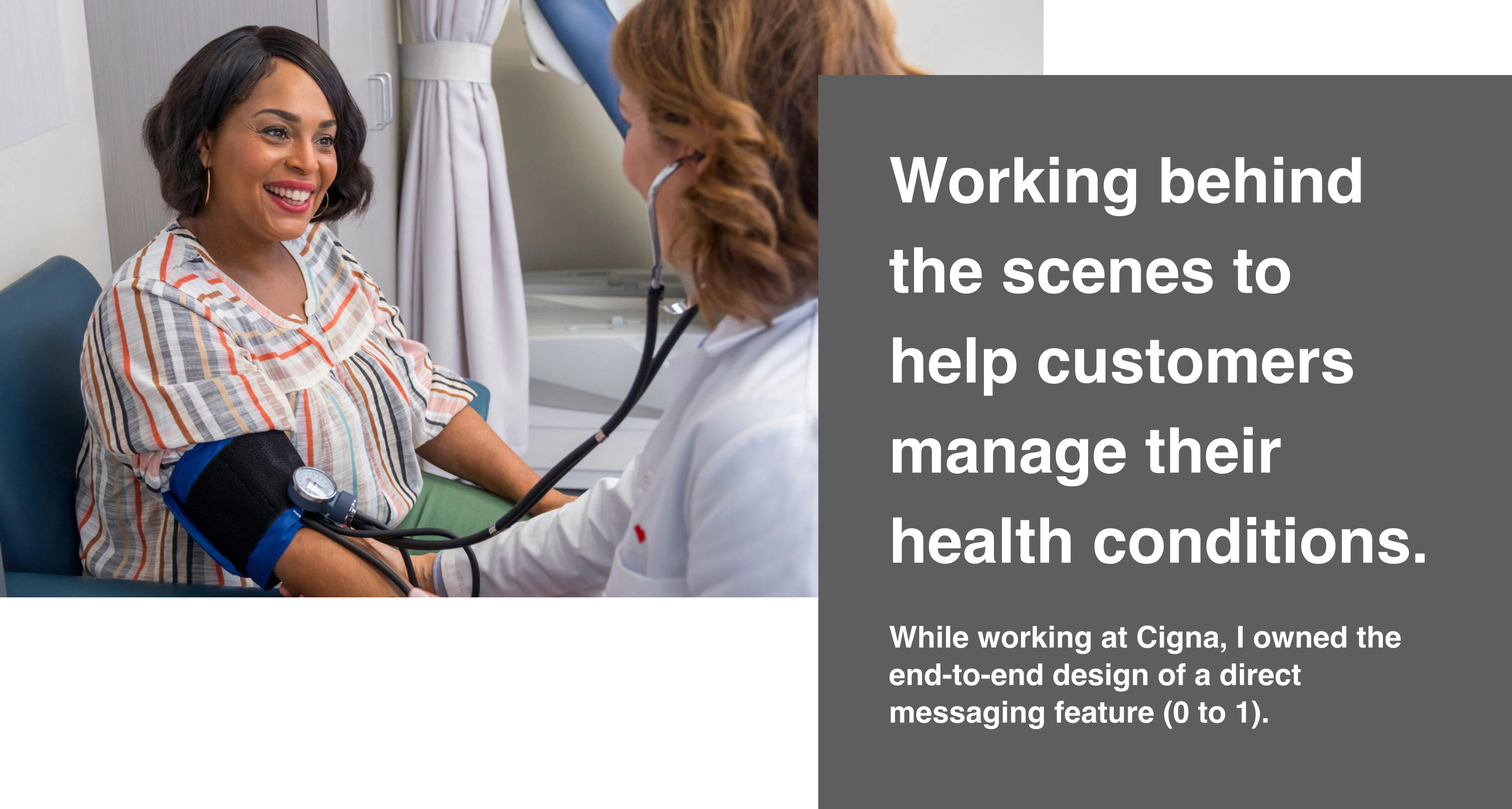 BACKGROUND
Cigna's Case Management team is made of nurses, health coaches, pharmacists, and other staff who work behind the scenes to help customers manage chronic health conditions such as diabetes, lupus, or epilepsy.
OPPORTUNITY
There was an opportunity to evolve Cigna's digital messaging capabilities to increase engagement, reduce total cost of care and improve health outcomes.
RESPONSE
As the UX lead, I was responsible for:
Designing the e2e experience (agent/customer-facing) for native, desktop and responsive.
Creating a high-fidelity prototype for user testing.
Creating user flows and prototypes.
Conducting a competitor analysis and documenting best-practices and opportunities.
Sharing early designs with Case Managers on a weekly basis.
Creating user stories (UX backlog) for new features.
Creating a confluence page to document scope, latest designs and specs.
Working closely with engineering to ensure a quality deliverable.
MVP designs include an initial outreach email, conversation between the agent/customer and notifications.
POST MVP designs include typing indicators, agent photos, online/offline indicators, file attachments, video chat and click-to-call capabilities.
OUTCOME
A delightful, polished product that makes it easy for Cigna's Case Management team to support customers and their families.
DELIVERABLES
User flows
High-fidelity prototype
Visual designs
Design specs