ABOUT CVS
CVS Health is a Fortune 4 health solutions company with 9,900 retail locations and nearly 77% of revenue coming from pharmacy and 23% from front store categories such as over-the-counter drugs, and consumer health, beauty and personal care products. A key driver in the success of the retail segment is the ExtraCare loyalty program (one of the largest and most successful in the U.S.) with 74 million members who are provided with a variety of deals & rewards.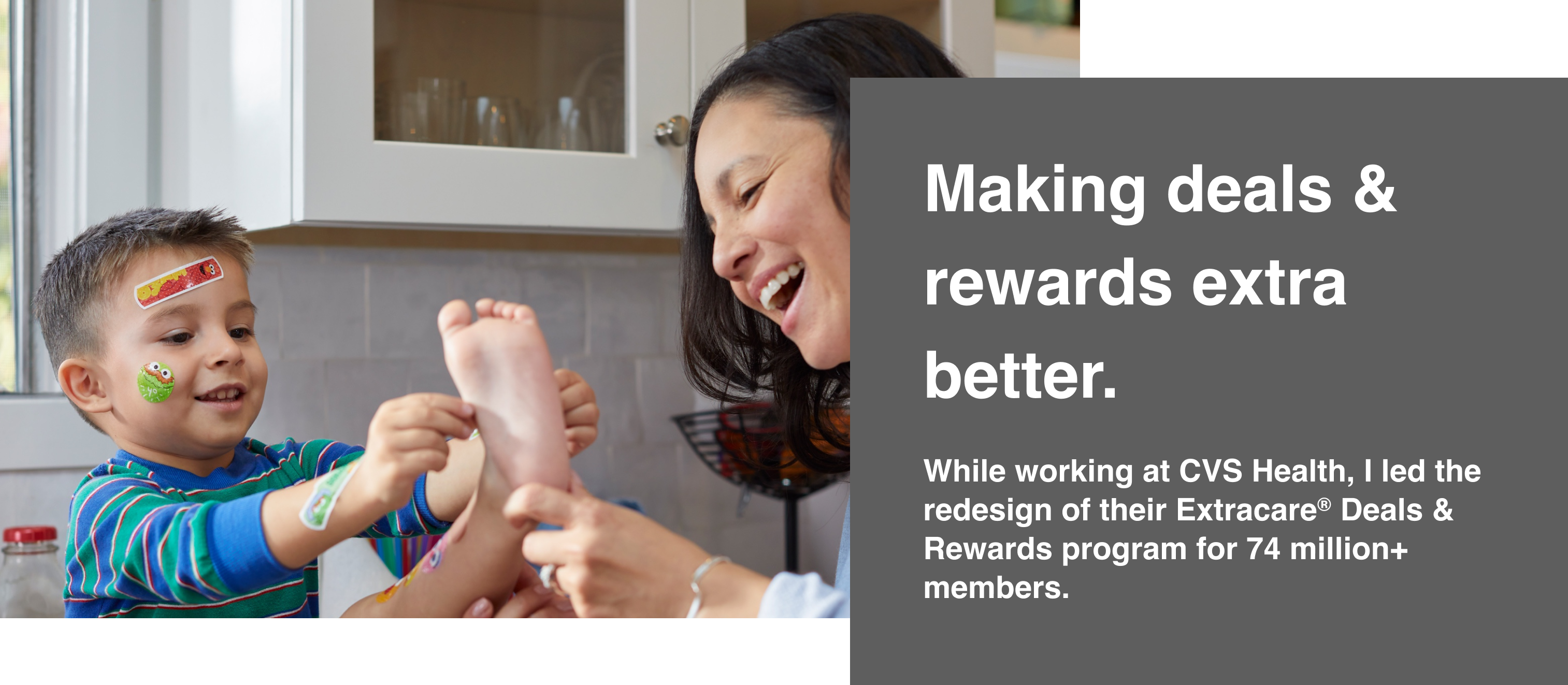 KEY ACTIVITIES
01.

Conduct competitor research / document best-practices.

02.

Create prototypes to validate
ideas and conduct user testing.

03.

Drive design from wireframes to polished visual designs.
PROBLEM
Members did not have an easy way to view, track and use their deals & rewards via mobile devices.
OPPORTUNITY
We had an opportunity to tap into the power of personalization and deepen our relationship with each customer.


RESPONSE
As the lead designer, I was responsible for:
Creating user flows and prototypes for user research sessions.
Conducting a design audit of loyalty programs across industry leading mobile apps.
Conducting user testing to gather feedback on placement of rewards & offers.
Translating conceptual ideas into highly crafted interactive experiences.
Sharing early prototypes and mocks with stakeholders to demonstrate how a particular interaction will work and get feedback on technical feasibility.
Presenting high-fidelity prototypes and designs to stakeholders across the organization.
Having user tested designs ready for review / input from cross-functional teams and leadership.
Working closely with engineering to ensure a quality deliverable.
OUTCOME
Best-in-class rewards experience with exclusive benefits and highly personalized offers. Members can choose to use their rewards on their next visit or watch them add up and spend them later.
DELIVERABLES
User flows
Competitor review / analysis
Visual designs
Prototypes for user research and cross-functional alignment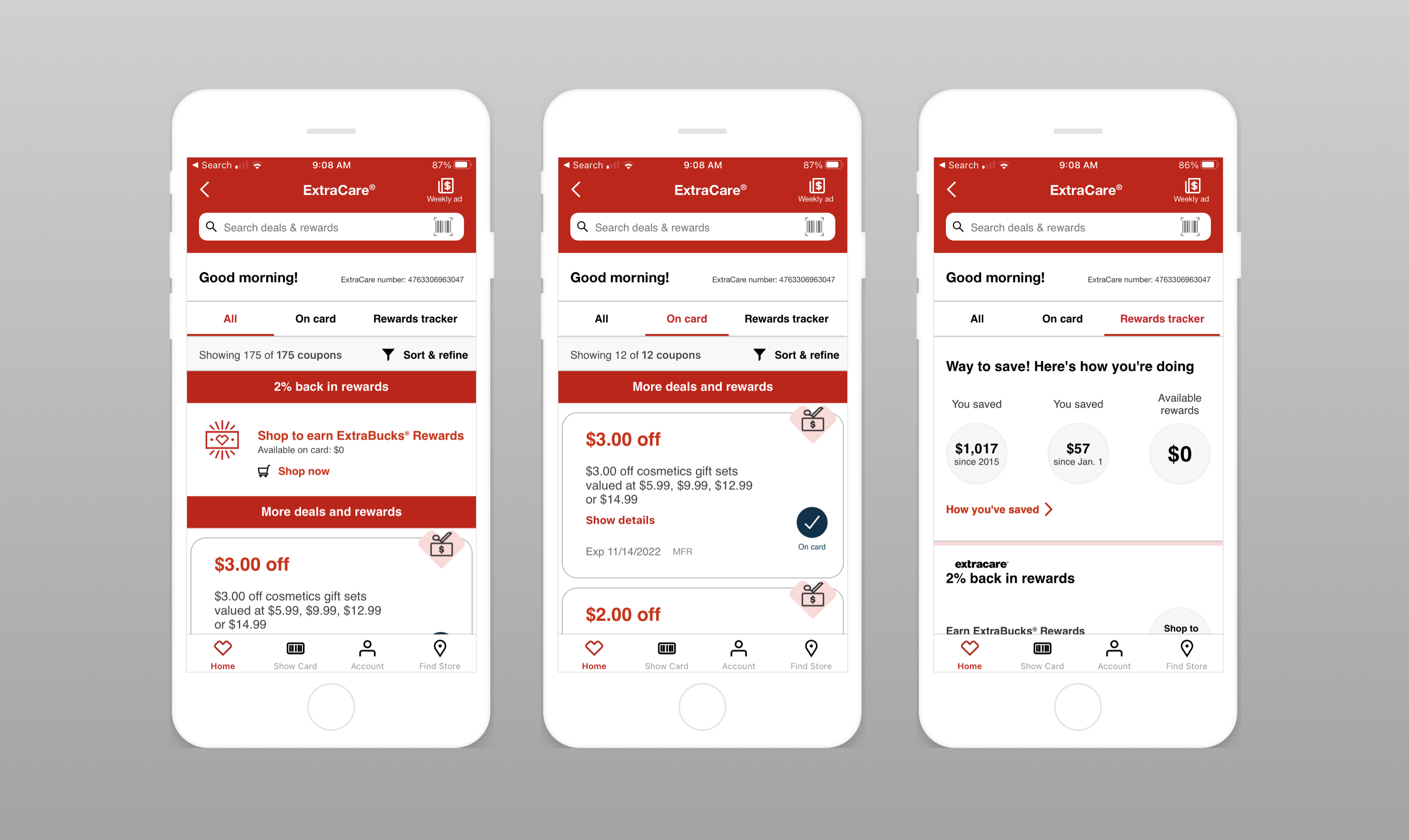 Moving from wireframes into polished visual designs.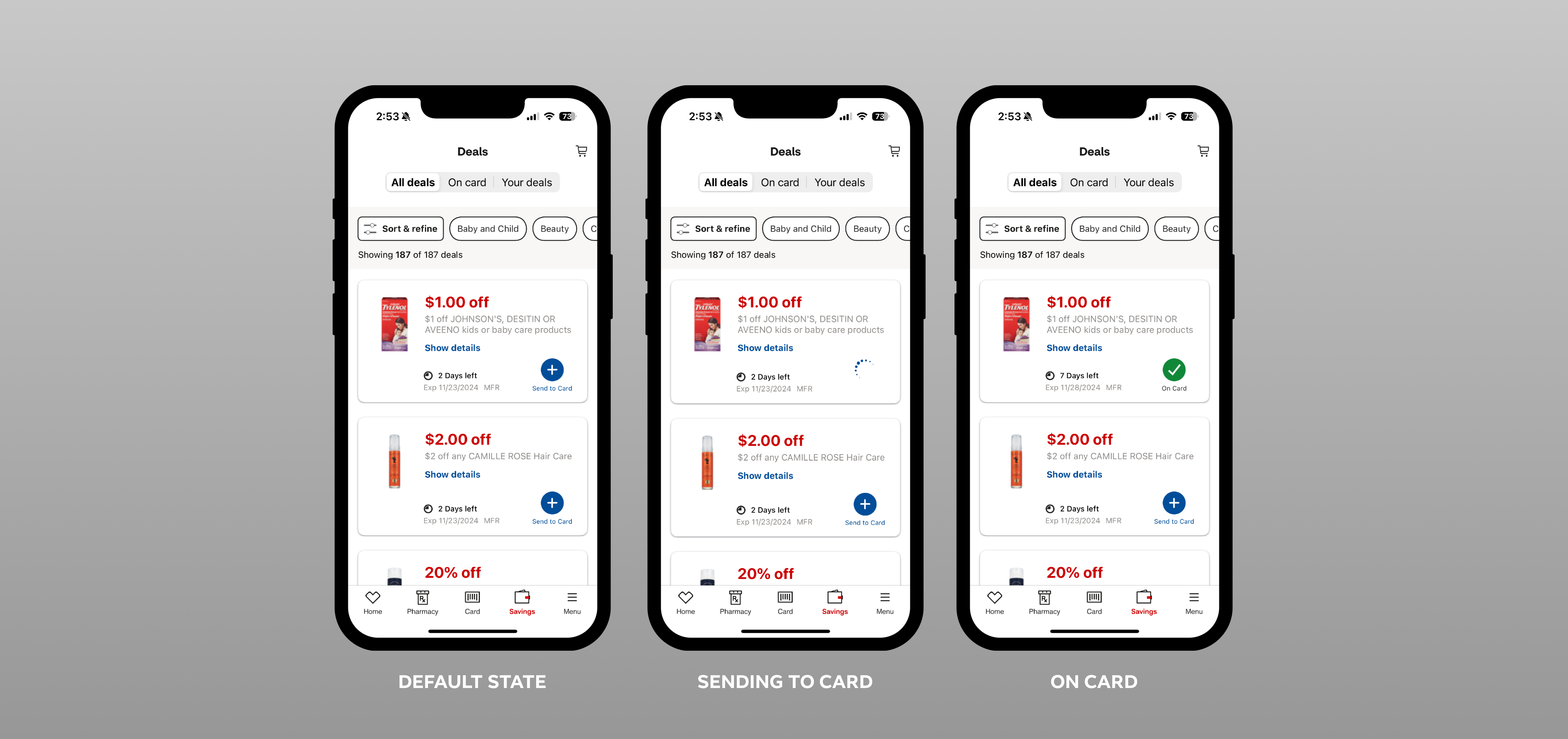 Moving from wireframes into polished visual designs.
TESTIMONIAL
"Hugo is a great person to have on your UX team. While he was a UX consultant at CVS Health we worked on many projects together. He is a very competent and fast worker who delivers detailed wireframes and thoughtful thinking on all his projects. He is particularly good at proposing new concepts that draw on the latest UX best practices and design trends keeping his work very on point. Plus his great attitude always made it a pleasure to work with him."